Exciting Depot Doin's

Voices of Southern Arizona Railroaders
Visit the museum often to see rotating employee stories showcased in our new permanent exhibit focusing on oral history accounts of railroaders in the steam and diesel eras.  Read their stories in the Oral History section, click here
===   ===   ===
Our Recent Events:
= == === ==== ===== ==== === == =
Dr. Ken Karrels, SATM President,
is awarded the Tucson-Pime County
Historical Commission's Historic Preservation Award
Our Prior Events:
March 19, 2016,The 136th Silver Spike Celebration –
Commemorating the Southern Pacific RR Arrival in Tucson
Click here to see the program from the event   
 === === ===
1673 gets a proper brass bell
 
Thanks to the generosity of Alvrius  and  Alvina Neeley the museum now has an authentic brass bell on locomotive 1673, in memory of Alvrius Neeley.
      Also, thanks go to volunteer staff members Gene Anderson and William May for their dedicated  work in mounting and polishing this treasure in April, 2012.
====  ====  ====
 New cab wood roof
 
The 1673 cab has a new wood roof,
made of tongue and groove slats,
to replicate its running appearance.
Special thanks to Paul Chandler and Barry Blackwell,Master carpenters, for their work in putting a proper ceiling on 1673.    Barry Blackwell, is a Garden Scale RR Modeler; Paul is Past President of the Southern Pacific Historical Society and one of the early members  of the management team that designed the exhibit display in the museum.
===   ====   =====   ====   ===
 UP Train Visits SATM

SATM members and friends were treated to a ride on the Union Pacific Railroad's 150 anniversary train. Later there were rides for UP employees and their families at their annual picnic. The SATM was there too, furthering our mission of education to their families. The train was led by UP engine 1996, painted in Southern Pacific's Daylight livery, part of the heritage fleet of constituent, merged rail lines. They are numbered for the year of merger. To see more heritage engines from C&NW, DRGW, MoPac, KATY, WP, click here.
The cars were the coach City of Salinas, dome Challenger, and business car Cheyenne. These were also here in November with steam engine 844. To read about and see diagrams of these and other cars of the line, go to this UP site, http://www.uprr.com/aboutup/special_trains/historical_equipment/index.shtml Thank you, UP, for honoring us.
===   ====   =====   ====   ===
On March 17th, 2012, we celebrated the 132nd anniversary of the arrival of the Southern Pacific Railroad in Tucson at the annual Silver Spike Festival. This year we had the induction into the Southern Arizona Transportation Museum Hall of Fame or Eddie Pectol, Fletcher McCusker, and Henry Zappia.
==== ==== ==== ==== ====
The former Southern Pacific Railroad Central Traffic Control console was transferred from the Gadsden- Pacific's Ivan English to SATM's Ken Karrels for display in the Depot Lobby.
Click the picture to see the final placement in the Depot Lobby, with pictures painted by Don Perceval.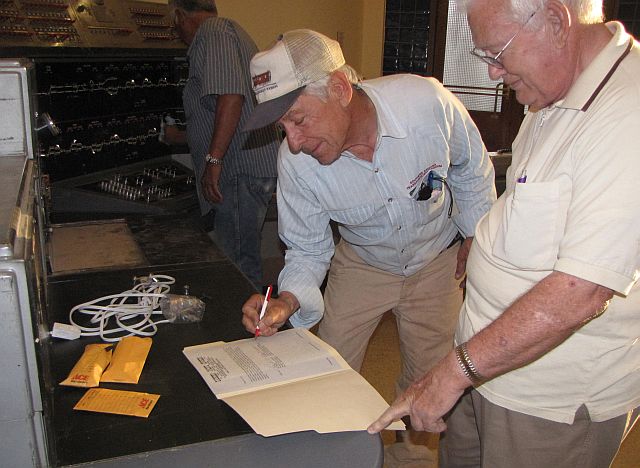 The Tucson Historic Train Depot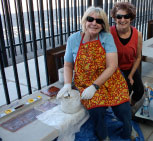 put out a call to artists for
assistance in replacing tiles
that have beenbroken for several
years. Nancy Williams led this
project by doinga lot of research
and experimentingon matching these
unusual tiles. More is at website:
gailtrobertsstudio.com 
S.A.T.M Hall of Fame
Silver Spike Awardees:
2005 Robert Walkup, Tucson Mayor
2006 Elbert T. "Happy" Houston, former Mayor
2007 William Sayre
2008 Julia Peters-Newman, Alan Levin
2009 Sid Showalter, Jim Staggs, Howard Greenseth
2010 Harlin Marlar, John Tierney, Maynard Flood, Ivan English
2011 Sabastian Castillo, Lloyd L. "Chip" Rabb, Richard Dick
2012 Eddie Pectol, Henry Zappia, Fletcher McCusker
2014 H L Anderson, Joe Findysz, Gene Anderson
2015 Paul Horky, Judy Dare, Steve Anderson, Ken Jolly, Mike / Jane Dorgan.
2016 Joy Hollander , Armida Leyva, Robert H  Stephens Jr, The Carl A Ball Family, Las Donas De Los Descendientes Del – Presido De Tucson
2017 Gail Meyer, Randle Hill, Linda Gasser, Jeanne Rader, Julie Peters
2018 Dr. Kenneth Sandock, Tom Kerby, Sheryl Sitzer, Kurt Den Baars
Former Tucson S.P. John J. Tierney displays
his 2010 Railroader of the Year Silver Spike Award