Welcome to Our 18th Year of
THE SOUTHERN ARIZONA TRANSPORTATION MUSEUM

~ ~ ~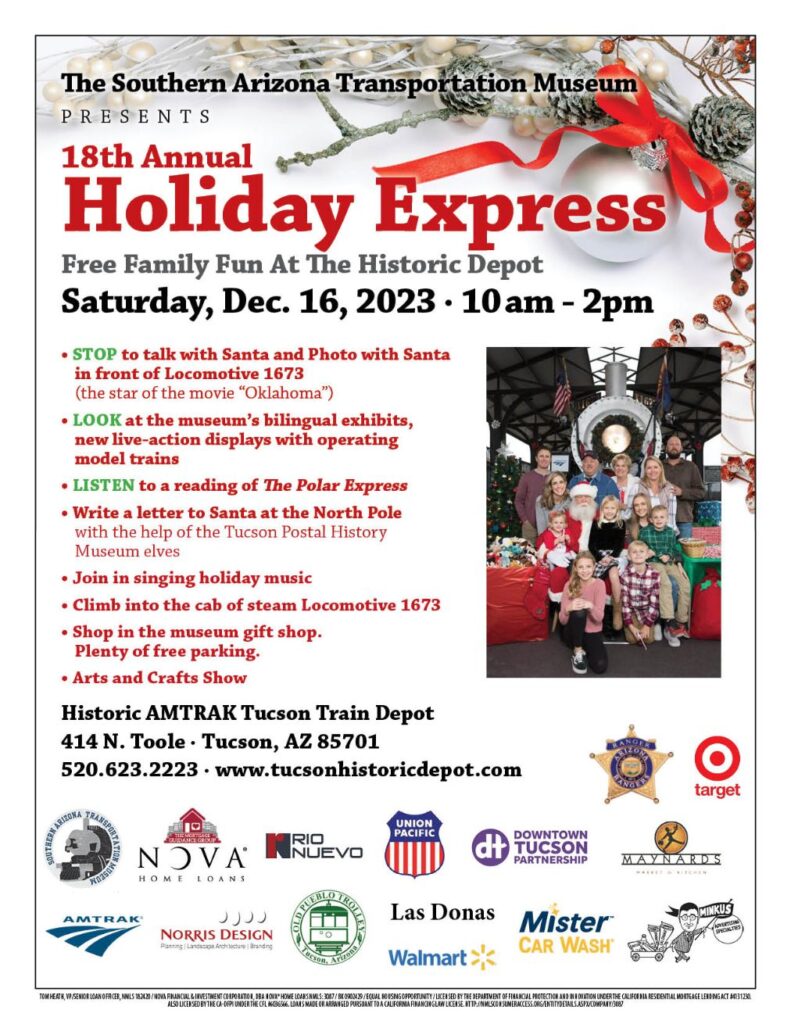 -=-=-=-=
GADSDEN-PACIFIC DIVISION
Toy Train Operating Museum
Now open Sundays, 1:00-4:00
= == === ==== === == =
VISIT OUR REGULAR HOURS
 Tuesdays, Wednesdays, Thursdays
       11:00 – 3:00
Fridays, Saturdays
10:00 – 4:00
Sundays
11:00 – 3:00
Admission is FREE
Exhibits are bilingual 
COME VISIT AND STAY SAFE
Volunteers are always needed
Museum, Engine, and shop

ANNOUNCEMENTS
ARIZONA RAILROAD MUSEUM FALL OPEN HOUSE
in Chandler, Saturday, November 11 from 9am-4pm.
===== ===== =====
See the newly filmed video on the Water Boys
who supplied the Chinese workers
building the railroad near Tucson
in our videos section
===== ===== =====
OUR FUTURE EVENTS
    DEC 16     HOLIDAY EXPRESS
MAR 16     SILVER SPIKE
 = == === ==== === == =
End of the Line
Members and friends of the museum
who have passed
= == === ==== ===== ==== === == =
Special Thanks to David Quakenbush, Owner of A1 Watch Repair on Broadway and
Camino  Seco who made the raffle possible by his generous raffle gift to the Museum.

Also, our sister museum,
THE TRANSIT MUSEUM IS OPEN 
The OPT Transit Museum at S. 4 th and E. 36 th Streets
has reopened to the public.
The Transit Museum hours are
Mon., Wed. and Sat. from 10 a.m. to 3 p.m.


* * * You can now * * *
See Us From Anywhere
We are now on Virtual Railfan
With a YouTube address
The Camera is on 24 hours
Showing UP Mainline,
Engine 1673,
and Doc and Wyatt
In the last month we had ~300 viewers,
one of the favorite sites.

Amtrak Schedule is
# 1,21, west: Tu, Th, Sn 6:45-7:36 PM
# 2,22, east: Mo, Th, St 7:28-8:15 AM


Feel free to visit Engine 1673
anytime you want,
so she won't be lonesome out there.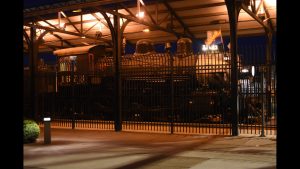 NEW FEATURES
Follow the Epes Randolph Facebook page
and satm1673 on Instagram
for fun and fascinating photos and tales of Tucson history!
= == === ==== === === == =
You can now donate, join, and renew on this site
push the button for the donation page

We also have a new brick donation form
Press the donate button above for illustration and form
Leave a lasting legacy on display
~ ~~ ~~~ ~~~~ ~~~ ~~ ~
The Big Boy 4014 has come and gone
leaving many memories,
For better memories, visit the UP site
add up urls rr and foundation

Arizona Daily Star's Road Runner column features
SATM, Ken Karrels, and All Aboard Arizona Rail Passenger Association
discussing rail passenger service between Tucson and Phoenix. 
Thanks, Joe Ferguson
~~~ and ~~~
All Aboard Arizona – Rail Passenger Association
Tucson-Phoenix Commuter Service
New links July 2021
~~ ~~ ~~~ ~~~~ ~~~ ~~ ~
   see our display cases and displays
women engineer
lanterns
still running
Dinner in the Diner
Featuring original china and silver service
from the named first class Pullman trains.

 = == === ==== ===== ====== ===== ==== === == =
And Celebrating the Movie "Oklahoma"
Starring our Engine 1673
which was filmed in Elgin, AZ, and surrounding areas,
Read more  at this link:
= == === ==== === == =
See how to donate a car, help the museum, and the high school JTED mechanical education program: here