How to relocate a 65-ton locomotive
On December 3, 2000, at 7 am MST, Southern Pacific steam engine #1673 was moved from Himmel Park to its new home on the grounds of the former Southern Pacific Depot on Toole Avenue downtown.
On Friday, December 1, the chain link fences surrounding the engine were removed for the first time in several decades.
On Saturday, December 2, the locomotive was loaded onto a large flat bed truck. How big was the truck? Well, let's just say it was large enough to make the locomotive look small!
On Sunday, December 3, the procession took place. The original route was to have gone down Speedway to Campbell Avenue and then down Broadway and through the underpass to Toole Avenue. It was then determined that the locomotive would not be able to clear the underpass by a few inches, so another route had to be found. 22nd Street to Euclid Avenue was chosen as the alternate route. Several onlookers enjoyed the rare view of an enormous piece of history traveling down Campbell Avenue.
The procession traveling past another piece of Tucson history,
Arizona Stadium on the University of Arizona Campus.
The locomotive just barely cleared some of the downtown traffic
signals. The downtown buildings were a welcome backdrop.
Crossing Toole Avenue just before entering the former Southern
Pacific Depot grounds. Something you just don't see everyday.
—
At the completion of the move, the locomotive and tender were ready to be winched off the flat bed trucks in their new home.
The site on the depot grounds before the locomotive arrived, and
after.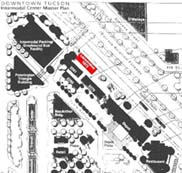 Map of SP 1673's new home (click to enlarge)