Welcome to Our 16th Anniversary of
THE SOUTHERN ARIZONA TRANSPORTATION MUSEUM

NOTICE
WE ARE TEMPORALLY CLOSED !*
We will be closed
until Pima County
allows re-opening
We will then open limited days
Tuesdays, Fridays, Saturdays. Sundays
11:00-3:00     10:00-4:00       10:00-4:00       11:00-3:00
Until then
 hope for a Good New Year

* * * However, you can now * * *
See Us From Anywhere
We are now on Virtual Railfan
With a YouTube address
The Camera is on 24 hours
Showing UP Mainline,
Engine 1673,
and Doc and Wyatt

Amtrak Schedule is
# 1,21, west: Tu, Th, Sn 6:45-7:36 PM
# 2,22, east: Mo, Th, St 7:28-8:15 AM


Rescheduling the Silver Spike-Train Day celebration we'll try for 2021
~
Feel free to visit Engine 1673
anytime you want,
so she won't be lonesome out there.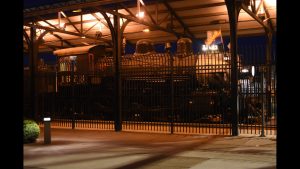 NEW FEATURES
Follow the Epes Randolph Facebook page  https://www.facebook.com/Epes-Randolph-264091763657855/ , and satm1673 on Instagram https://www.instagram.com/satm1673/ for fun and fascinating photos and tales of Tucson history!
~
You can now donate, join, and renew on this site
push the button for the donation page

We also have a new brick donation form
Press the donate button above for illustration and form
Leave a lasting legacy on display
~ ~~ ~~~ ~~~~ ~~~ ~~ ~
SILVER SPIKE 140th JUBILEE
to be with
TUCSON TRAIN DAY
~
Originally for Saturday, May 9th


to be rescheduled in 2021


following public health policy 
HOWEVER, you can see prior celebrations
and other museum videos HERE
~ ~~ ~~~ ~~~~ ~~~ ~~ ~
The Big Boy 4014 has come and gone
leaving many memories and photos
send your photos and movies to us at
For better memories, buy the shirt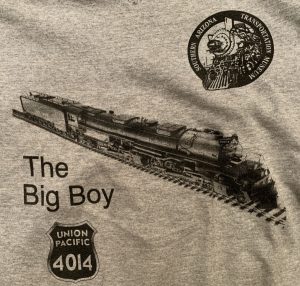 The Silver Spike & Train Day are suspended
until safe to meet in public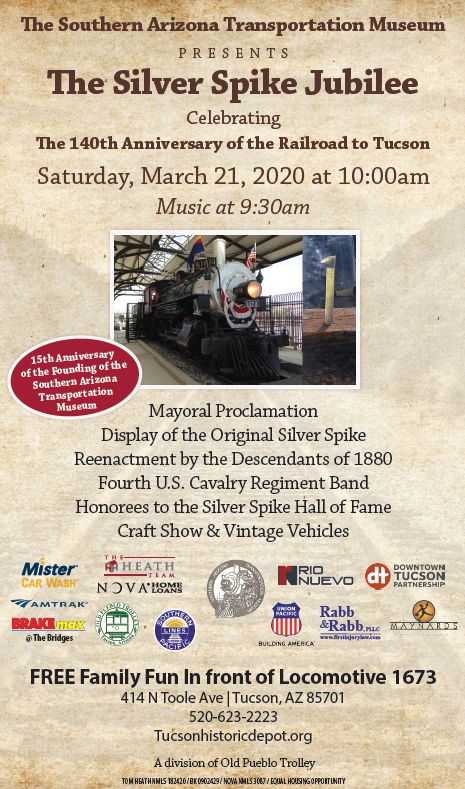 ~ ~~ New date to be announced ~~ ~

~ ~~ ~~~ ~~~~ ~~~ ~~ ~
Arizona Daily Star's Road Runner column features
SATM, Ken Karrels, and All Aboard Arizona Rail Passenger Association
discussing rail passenger service between Tucson and Phoenix.
Thanks, Joe Ferguson
~~~ and ~~~
All Aboard Arizona – Rail Passenger Association
Tucson-Phoenix Commuter Service
~ ~~ ~~~ ~~~~ ~~~ ~~ ~
   see our new display cases and displays
Our current special exhibit:
Dinner in the Diner
Featuring original china and silver service
from the named first class Pullman trains.

   The Southern Arizona Transportation Museum
is proud to carry David Devine's new book
Historic Tales of Territorial Tucson,
1854-1912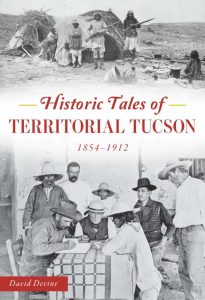 Did you know as early as 1871 Tucson was predicted to become "a railroad center" for the Southwest? That twenty-years later, a 400-foot-long sea serpent speaking perfect English visited the remote community? That in the 1890s, Tucson hosted a few round-the-world bicyclists, one of them a woman? These and other interesting but little-known stories of the small settlement on the banks of the Santa Cruz River are contained in a new book written by local historian David Devine
Click here for more information on this and other books
and to order this book
= == === == =
We also have books by our museum historian
William Kalt III
Click on the book covers for more information
= == === ==== ===== ====== ===== ==== === == =
 Please visit our friends at the
Gadsden-Pacific Division




Toy Train Operating Museum
They will suspend public functions through December,
including the swap meet and Polar Express.
 = == === ==== ===== ====== ===== ==== === == =
And Celebrating the 60th Anniversary of the Movie "Oklahoma"
Starring our Engine 1673
which was filmed in Elgin, AZ, and surrounding areas,
Read more  at this link:
= == === ==== === == =
See how to donate a car, help the museum, and the high school JTED mechanical education program: here