Welcome to Our 11th Anniversary of
THE SOUTHERN ARIZONA TRANSPORTATION MUSEUM
~
Our Second Saturday Movies Are Back, See Below
~~
137th Silver Spike Celebration is MARCH 18th
see items below
~~~
From our sister museums, Gadsden-Pacific Division, here in Tucson,
Model RR and RR Collectable Swap meet
January 13-14
SATM will be there
~ ~ ~
and the Tucson Garden RR Society
Rails-in-the-Garden Tour
March 3 & 4, 10:00 to 4:00
more on their site: http://tucsongrs.org/index.shtml
~
Our Next Activites at the Museum
~  ~  ~  ~
The    Southern Arizona Transportation Museum
presents its annual


lecture series


Sundays at 3 PM
    Feb 12 - "The Golden State Limited," by Michael P Bording, Retired Conductor
    Feb19th – "Arizona and South Eastern RR," by Richard Dick, Rail Historian

    Feb 26th – "Railroad Family Life along the main line," by J.J. Lamb, Historian

    Mar 19th – "High in the Desert Skies,"   Early Arizona Aviation History, Wm Kalt, Author

    Mar 26th – "Wagons of the Old West," by Bob Stewart, Chairman Rodeo Parade Museum
Admission is free
~ ~ ~ ~
and
Our SECOND SATURDAY Movies
The PRINCESS SERIES
Jan 14                          5:30                               BEAUTY and the BEAST
Feb 11                           6:00                              ALADDIN
Mar 11                          6:15                               CINDERELLA
Apr   8                          6:30                              POCAHONTAS
May 13                         7:00                              The LITTLE MERMAID
Jun 10                          7:15                                MULAN
Our movie series is underwritten by the Nova Home Loan Corporation
~ ~ ~ ~ ~
SILVER SPIKE CELEBRATION:
137th Anniversary of the Arrival of the First Train to Tucson.
and the 12th Anniv of the SATM
Silver Spike Festival:              Mar 18th 2017
9:30 AM – Music       10 AM – noon Program-Noon
Reenactment by the  Descendants of the 1880 celebration.

Original Silver Spike of 1880 on display


4th Us Cavalry Regiment Band

Mayoral Proclamation

Crafts/

Free family Fun



= == === ==== ===== ==== === == =
 see our new display cases and displays
Our current special exhibit:
Dinner in the Diner
Featuring original china and silver service
from the named first class Pullman trains.
= == === ==== ===== ==== === == =
For the Museum, Trolley, and Bus Divisions
of the Old Pueblo Trolley Organization
 = == === ==== ===== ==== === == =
   The Southern Arizona Transportation Museum
is proud to carry David Devine's new book, debuted at the Tucson's Birthday Party
"A History of the Old Pueblo from the 1854 Gadsden Purchase"
See a review in the Arizona Star
Visit the museum Gift Shop for this and other books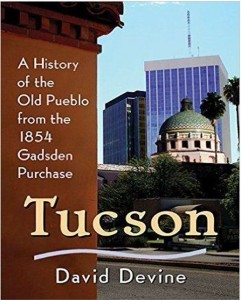 = == === ==== ===== ====== ===== ==== === == =
Please visit our sister train museum
THE GADSDEN-PACIFIC DIVISION TOY TRAIN OPERATING MUSEUM
There are public open houses second and fourth Sundays, 12:30-4:30 through May
The next swap meet is June 3rd and 4th
find out more at http://www.gpdtoytrainmuseum.com/
= == === ==== ===== ====== ===== ==== === == =
And Celebrating the 60th Anniversary of the Movie "Oklahoma"
Starring our Engine 1673
which was filmed in Elgin, AZ, and surrounding areas,
Read more  at this link:
= == === ==== === == =
See how to donate a car, help the museum, and the high school JTED mechanical education program: here