Plan Your Events at the Museum:
You can schedule birthday parties, weddings, anniversary parties, business, and professional receptions, and other social activities at the museum, engine 1673, and the Old Pueblo Trolley. Contact us for details.
====    ====    =====
Engine 1673 gets ready for Halloween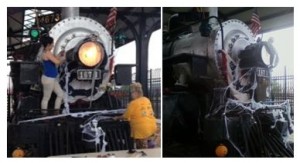 ====    ====    =====

 
To see the promotional video, click the picture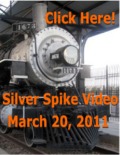 = ==  ===   ====     =====    ====   ===  == =
Depot Tours
All aboard! Visit the Southern Arizona Transportation Museum. Your tour guide will explain the historic and present day uses of the former Southern Pacific Depot. History comes alive when you explore the restored Depot Lobby (circa 1941), the historic Locomotive #1673 and the Museum. Learn how the railroad impacted Tucson since its arrival in March 1880.
All tours $6 per person. Please ask about student discounts.
{{{{ Visiting on your own is always free }}}}
DATE  & TIME:

Mornings around when Amtrak Sunset comes – by appointment, and when the depot is open.

PLACE:

Meet in the Depot Lobby, which is the first floor of the two-story
structure at the Depot site 400 N. Toole Ave, Tucson, AZ 85701

SPONSORED BY:

The Southern Arizona Transportation Museum

CONTACT:

520-623-2223