Education
Community Outreach
Civic, bus & conference tours available by appointment for groups from 10 to 150 people, $6.00 per person.
The Museum offers a variety of annual and special events, lecture series, anniversary celebrations and other enrichment programs.
Click here for detailed information on our various tours.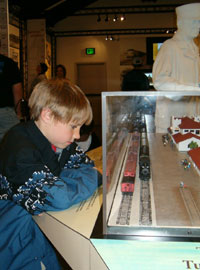 Youth Education
Call for more information regarding age-appropriate tours, including topics such as train safety and local history. The museum offers train safety presentations through our partnership with the Arizona Chapter of Operation Lifesaver. This train safety program, formed in 1972 by a concerned railroad employee, is now an international program proven to reduce fatalities.
Train Safety
Visit www.azol.org for information on Train Safety from Operation Lifesaver.
Aim4College
Click here to visit the Aim4College website for information on their Scavenger Hunt and more information on our museum.
– – – – – – – — –
For an inspiring Power Point presentation on kids and trains, click here
If you do not have Power Point, try Open Office.org