David Devine
FASCINATING NEW BOOK ON TUCSON'S HISTORY
Did you know as early as 1871 Tucson was predicted to become "a railroad center" for the Southwest? That twenty-years later, a 400-foot-long sea serpent speaking perfect English visited the remote community? That in the 1890s, Tucson hosted a few round-the-world bicyclists, one of them a woman?
These and other interesting but little-known stories of the small settlement on the banks of the Santa Cruz River are contained in a new book: Historic Tales of Territorial Tucson 1854-1912. Written by local historian David Devine and published by The History Press, the book has 111 pages, 52 black and white images, and 20 pages of notes and index.
The ten chapters of the book are:
1 – From Purchase to Territory
2 – Snake Stories
3 – Locomotives, Bicycles and Locomobiles
4 – Presidential Visits
5 – Celebrations Galore
6 – A Health Resort
7 – Sport Shorts
8 – Neighboring Neighborhoods
9 – Commercial Centers
10 – A Toe Tickler and Other Tucsonans
The numerous historic tales included in the book involve all the various ethnic groups that made up territorial Tucson. The stories also highlight the important role women played in both the business community as well as socially.
Historic Tales of Territorial Tucson 1854-1912 will go on sale in early November for about $24.00, tax included. But you can now get a copy for less while also making a contribution to the Southern Arizona Transportation Museum.
If you order a copy directly from the author by October 24 for $23.00, tax included, the book will be mailed to you in November. At the same time, Dave Devine will contribute $5.00 of each sale to the Museum.
To order your copy today, send a check for $23.00, with "SATM" in the note line, to: Dave Devine, 1705 E. Water Street, Tucson, AZ 85719
If you have questions, contact him at 325-2108
or ddevine1705@yahoo.com. Thank you.
= == === ==== ===== ==== === == =
"A History of the Old Pueblo from the 1854 Gadsden Purchase"
See a review in the Arizona Star
The book can be found at SATM, Amazon, and other dealers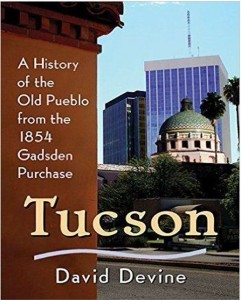 = == === == =